Jason Brooks is a native of Fayetteville, Georgia and resides in Lakewood Heights. He graduated from Georgia State University in 2010 where he majored in Political Science. Jason is a past participant in the nationally recognized Model United Nations of Georgia State University. During his undergraduate career he studied in Argentina where he received his certification in Latin American Cultural Studies and became fluent in Castilian Spanish.
Jason participated in the Georgia Legislative Internship Program where he worked for Senator Ed Harbison and George Hooks. Jason was also staffed by the Georgia General Assembly as a Senate Liaison.  In 2011, Jason worked under Secretary Bob Ewing as the Liaison between the Georgia State House of Representatives and Senate.
Jason is a strong voice for diversity and inclusion within the City of Atlanta. He is a volunteer soccer coach and started a nonprofit in 2014 which uses soccer to bring positive socioeconomic development in low income communities.  Jason has been involved with the political system for 10 years. Assisting with fundraising events for President Barack Obama and Congressman John Lewis, Jason looks forward returning to the Oblander Group as Political Fundraising Consultant for the new generation of candidates.
[contact-form-7 id="970″]
Mar
28
Sat
John Lewis – Celebrating 80 Years

@ The Tabernacle
Mar 28 @ 6:00 pm – 11:00 pm
Please join Congressman John Lewis at The Tabernacle on Saturday, March 28th for his 80th birthday celebration.
This is a ticketed event.
$2,500 Gold Host PAC Donor (Host Reception and Floor Seating for Four Guests)
$1,000 Gold Host Individual Donor (Host Reception and Floor Seating for Four Guests)
$500 Silver Host PAC Donor (Host Reception and Floor Seating for Two Guests)
$75 General Admission (Seating In Sections 200 and 300)
$50 Young Professional or Senior Citizen (Seating In Section 400)
For assistance, please call Kristin Oblander at 404-873-3600, or email her at Kristin@TheOblanderGroup.com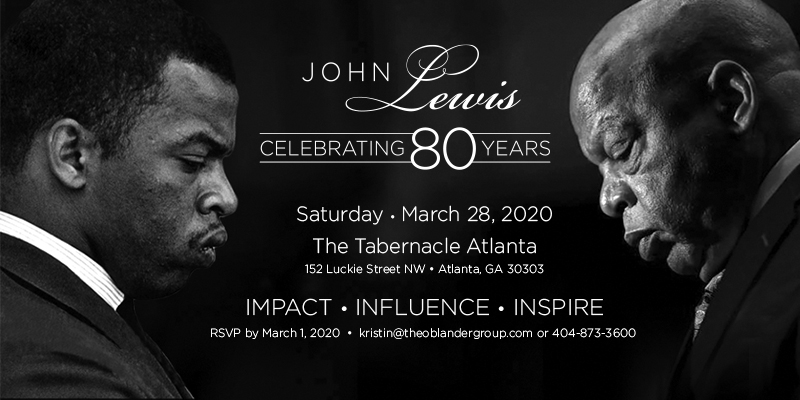 ....other potential contenders are rumbling about a run, raising the prospect of a jam-packed November ticket to fill the remaining two years of retired U.S. Sen. Johnny Isakson's term. And more competitors also means more competition for resources. "While there…
Thanks so much for 20 AMAZING years! Here are some photos from our anniversary party where clients past and present mingled with donors and supporters. The Oblander Group 20th Anniversary Party